Completed-in-Forgetting Old Lady, Tang, Huang-Chen 2019 Action Plan
TANG Huang-Chen
Completed-in-Forgetting Old Lady, Tang, Huang-Chen 2019 Action Plan
TANG Huang-Chen
Completed-in-Forgetting Old Lady, Tang, Huang-Chen 2019 Action Plan
TANG Huang-Chen
Completed-in-Forgetting Old Lady, Tang, Huang-Chen 2019 Action Plan
TANG Huang-Chen
Completed-in-Forgetting Old Lady, Tang, Huang-Chen 2019 Action Plan
TANG Huang-Chen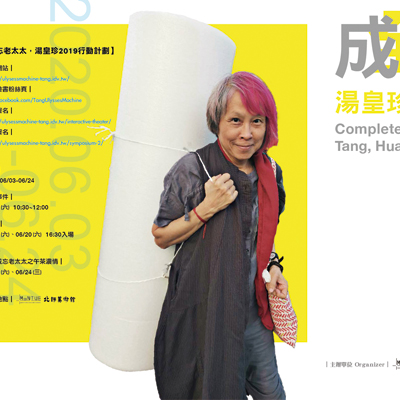 Date

2020/02/03 – 03/02 2020/02/22 – 03/15 2020/06/03 – 06/24

Venue

The Sin Pin Pier—Absolutely Art Space, The Pier-2 Art Center and Museum of National Taipei University of Education (MoNTUE)
Comments on the Finalist
Completed-in-Forgetting refers to both completely forgetting and completing the forgetting. A mother's "completion" needs to be "completed" by her daughter because the mother's undeniable present might be the daughter's possible future. TANG Huang-Chen's family action play about dementia and loss relies on the audience to become complete. The action plan started in Kaohsiung in 2019 and was later moved to Taipei in 2020. Through collaborating with communities in southern and northern Taiwan for a long time, engaging people in interviews and participation, the artist selected untrained local mothers, sons and daughters to work with professional performers. Combining installation and human body, the work unfurled through poetic expression, musical rhythm and dance movement, and revolves around the mother-daughter relationship in a lyrical style, evoking their interweaving private memories. The work is undoubtedly an exemplary action art project of individual practice and community development. (Commentator / WANG Pao-Hsiang)
Artwork Introduction
Artist Statement
On the January 1st of 2019, I took a selfie. Gazing at the photo, I suddenly had the urge to compare it to a recent photo that I took of my mother when she was lucid—from when she began forgetting things in 1996 until that very moment, her emaciated countenance has exuded a strange gentleness. My tears would fall when I hold her in my arms now. She has forgotten everything, including basic stuff, such as eating, getting up and sitting down.
I am now in my sixties and entering the stage of my twilight years, just like my mother—this is the final stage informed by forgetfulness and illness, the last puzzle to complete one's life.
Why can't one's life stop at its prime but must wither into silence?
"Forgetting" is like a gesture that signals at one's upcoming journey—a journey into a domain utterly different from other stages in life, though equally unavoidable. Eventually, I have become tired of passively accepting what is to come but desired to give all I could to live the days to come head-on. For me, this is the true meaning of "completion."
As the project unfolded and continued, I seemed to have moved away from its "form" – the difference is that I have never forgotten art, my old friend for three decades – and planned to question and explore the ultimate meaning of the last puzzle of life through creativeness, which has been the core of art. From this perspective, the project is not a "a work of art" but the very reality of my present life. Also, it is about the present condition of any "Completed-in-Forgetting Old Lady" such as I myself. Its cruel lucidness, its utter transformation and sublimation, and its truth and irreconcilableness have all corresponded to my questioning of the ultimate energy of art.
For this very reason, no matter how every step of this project (from scripting, auditioning, rehearsing to performing; from being total strangers, having afternoon tea together to writing a letter to the "Completed-in-Forgetting Old Lady"; from Taipei to Kaohsiung, in three different venues; and from 2019 to 2020) oscillated between its extensively realistic elements and the highly interpretive structure, it has always organically and subtly revolved around the project's core—when you encounter the "Completed-in-Forgetting Old Lady," with your creativeness, please hold onto "this" figure around you in daily life who is worth being treated with "art."
The Completed-in-Forgetting Old Lady project is not adhered to social service or medical education; instead, it points to the abstract conversion of human intellect in the ultimate dimension of art: the completion of forgetting is similar to the completion of being senile and adversities, which tests human's ability to face heterogenous mental codes as well as the potential creativeness resulting from such conversion and interpretation.
This project was born from the need to accept the loss of memory as well as for creatively coping with conundrums stemming from aging. From degradation and sorrow, understanding of and gratitude towards the truth of life is revealed. By changing one's mindset, the way to make peace with every stage of life is uncovered, allowing mutual completion between oneself and others to become possible.
So, be it the "author," the "Completed-in-Forgetting Old Lady," the "forgetful old lady" or figures with a "forgetting" personality, we are all in a way "Completed-in-Forgetting Old Lady."
About the Artist
TANG Huang-Chen was born in Taipei, Taiwan. Before she entered the Department of Fine Arts, National Normal University, she had already been involved in the theater and cinema. After she went to France and attended the Department of Plastic Art, University Paris VIII, she became immerged in the theories and the development of contemporary art, fully immersed herself in the synchronicity and interactive heterogeneity of performance art.
She returned to Taiwan in 1991. For 30 years, she persisted in presenting two to three new works each year, and completed over 50 works in the form of "event-based" projects. Her work bridges sociology and linguistics, and combines the interrelated elements of performance art such as action, performance, text and translation. With such long-term, vast and intensive cultivation, Tang is viewed as one of the few artists dedicated to performance art in Taiwan.
Her early works (1991~1998) are direct revelation of the conflicts between individuals and society/environment. Starting in 1999 to 2013, her I Go Traveling has chosen the most frequent behavior and phenomenon in the 21st century of the human race as the target of her allegorical simulations; in the past fifteen years, she completed ten elaborate projects that had crossed geographical boundaries and integrated actions and performances at different locales. Her works after 2010 in particular explore the domains of collective social memory and linguist narrative reconstruction.
In addition to artistic creation, TANG has been lastingly involved in the development of the art/culture environment in Taiwan. In 1997, she launched the campaign for the request, preservation and renovation of Hua-shan Art District. In 2008, she initiated the "Plant Art Act" movement. In 2009, she organized Art Creator Trade Union, and helped expedite the establishment of Taipei Art Creator Trade Union in 2011.
TANG Huang-Chen Website/ www.hctang.net
Facebook/ Huang-Chen Tang 
https://www.facebook.com/TangUlyssesMachine/
https://ulysessmachine-tang.idv.tw/