Sun Moon Lake is a Concrete Box—2020 Taipei Arts Festival
Xia LIN X Sheryl CHEUNG and
Liam MORGAN
Sun Moon Lake is a Concrete Box—2020 Taipei Arts Festival
Xia LIN X Sheryl CHEUNG and
Liam MORGAN
Sun Moon Lake is a Concrete Box—2020 Taipei Arts Festival
Xia LIN X Sheryl CHEUNG and
Liam MORGAN
Sun Moon Lake is a Concrete Box—2020 Taipei Arts Festival
Xia LIN X Sheryl CHEUNG and
Liam MORGAN
Sun Moon Lake is a Concrete Box—2020 Taipei Arts Festival
Xia LIN X Sheryl CHEUNG and
Liam MORGAN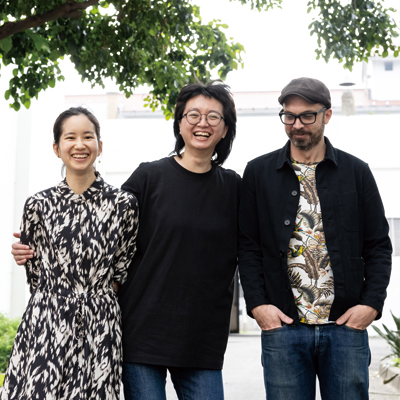 Date

2020/07/31

Venue

Taipei Backstage Pool
Comments on the Finalist
Fully using the expansive spaces of the Dihua Sewage Treatment Plant and Taipei Backstage Pool, the work thoroughly explores the interrelated context of "Sun Moon Lake" and "concrete box" via individual chapters. Exiting the underground space and entering the clean space of Taipei Backstage Pool reveals a dystopian landscape in a microcosmic way. Both the atmosphere created with lighting, screens and potted plants as well as the view of Tamsui River unveiled to the audiences after they leave the venue unlock different imaginations about this work that explores environmental pollution and urban collective memory. Whereas the sound and image of the screening portion are already extremely captivating, the incorporation of Sheryl CHEUNG's live music performance is more stunning. (Commentator / HUANG DaWang)
Artwork Introduction
The COVID-19 pandemic has substantially influenced the order of the world. Many social functions that support our modern lifestyles have either been stagnated or facing collapse. Sun Moon Lake is a Concrete Box centers its structural core around an exploration of mobility, delving deep into the topic of isolation, as well as how humans within isolation continue building their lives and navigating the inner and outer worlds of bodily senses in relation to natural and artificial environments. Through four stages of sensory impact, this work gradually constructs a narrative of unfolding consciousness, and unveils various "natural" landscapes through moving on foot, expanded cinema and sound, engaging the audience in readjustment of the present reality and the future that we shared.
About the Artist
Xia LIN (Taiwan) is the co-founder of the art organization, lololol. Enthusiastically studying Tai Chi philosophy, human cognitive processes and technological progresses, her practice centers on social behaviors and communication culture. In recent years, she has facilitated dialogues and connections between her personal practice of Tai Chi, martial arts and artistic creation. Her ongoing project 3C Xing Yi Quan is an open-source new form of internal martial arts that utilizes a method of interaction and development to gather bodily experiences and relations between the public and digital technologies. Her long-term project Future Tao was launched at Taipei Contemporary Art Center in 2017, with works that reconsider ancient and modern technologies of body and mind through experimental art practices.
Sheryl CHEUNG (Canada) is the co-founder of the art project, lololol. Like an open, metabolic body, her sound palette is vulnerable and harsh at the same time, unreservedly unveiling the complicated relationship among emotion, power and moral order permeating internal movement. Influenced by Spinoza and Taoist philosophy, she experiments with the idea of the body as an instrument that is continually played by affects. Her ongoing project focuses on sound and medicine through the interpretation of the body in Asian medicinal systems. She is now collaboratively working on Future Tao, a project that explores Taoist-informed mind and body technologies in the contemporary context.
Liam MORGAN was born in Canada in 1982. He is a visual artist, cinematographer and co-founder of the Bangkok Biennial. His art practice involves interference and disruption. His work, which is primarily based on the medium of light, often exudes a sense of interventionism. He had started studying politics, anthropology and urban development at Chiang Mai University in 2002 before entering the field of art. He later joined the actionist documentary team Images Asia and took up residence in Bangkok.